Care-N-Comfort Air Conditioning
Care-N-Comfort Air Conditioning is a family owned company providing residential and commercial HVAC services in Central Florida and the surrounding areas. 
The Challenge
Care-N-Comfort Air originally came to Minuteman Press Longwood for print marketing inquiries. Prior to working with us they worked with another web design company that was very late in completing their site. The owners of Care-N-Comfort Air wanted to deal with a marketing and design company that they could trust to deliver their website on time and make sure that they got a professional site they could use to promote their business effectively to attract centra Florida residents.
Solution: Brand Transformation
To create Care-N-Comfort Air website, we incorporated a client's vision of reliable HVAC services with creative designs to attract the targeted audience. Our developers and graphic designers worked together to create beautiful website by doing the following:
Designed beautiful and professional website that is easy to navigate.

Brought the professional look by using stunning images and clean designs.

Created a responsive website that can easily be use in different devices

Added translation feature for different languages

East to follow call to action for every page
We wanted to highlight the services Care-N-Comfort Air Conditioning offer using a responsive website that is unique and easy to navigate. We went with a clean designs and used professional images to showcase different services through out the website. We added different features for easy conversions including the options to call, chat, send email, and translate the website. In addition to that, clients are able to schedule HVAC appointment with a technician at any time.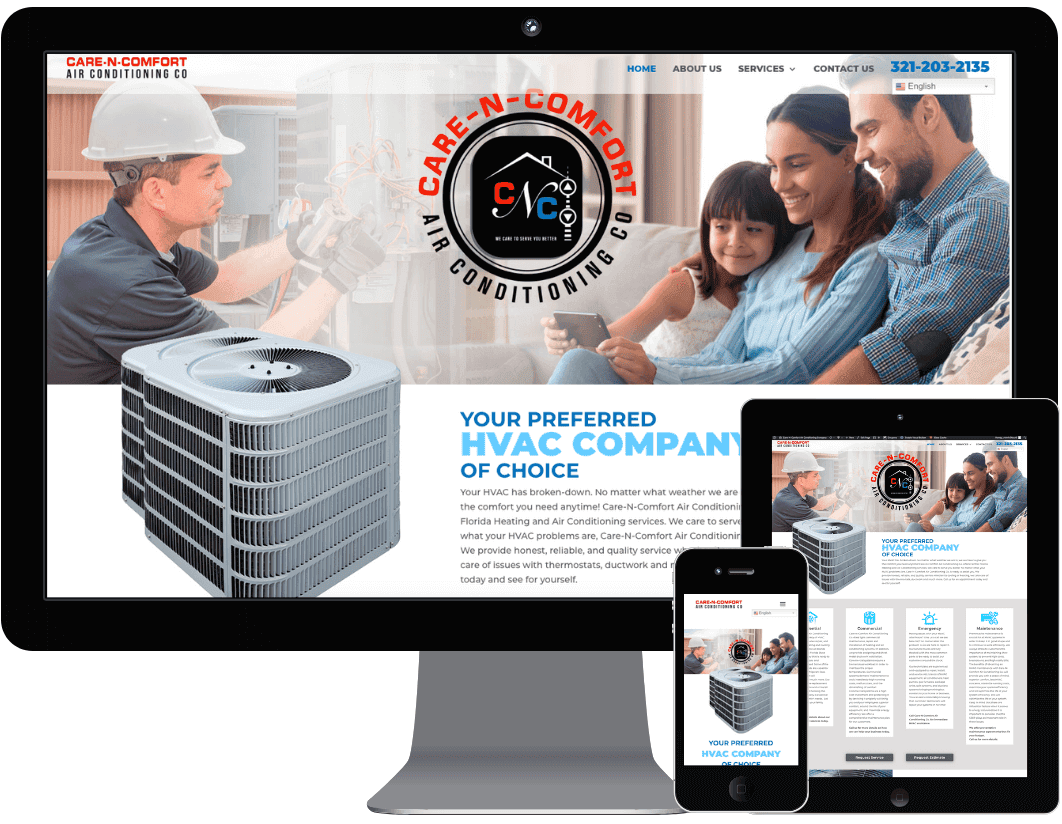 Results
The owners were very impressed with the turnaround, designs, creativity, and functionality of the website. The website has improved Care-N-Comfort Air Conditioning Company's online presence and attracted the targeted audience to the business. The outstanding website highlights the services and represents the business as the client was hoping.
"We had shopped around for our business needs and was not able to find the right company to get the job done. I have to say that we found Minuteman Press in Longwood and they are exceptional. They are your one stop shop for all your business needs. We got our vehicle wrapped with Brian and Sam..you guys rock! Our vehicle gets many compliments. Your attention to detail went above and beyond. Our website with a great team Naima, Oksana, and Sef..thank you for your attention to detail and always keeping us posted, meeting the deadline and making sure to make it right. Cheryl and Mike are our guidance and have helped every step of the way making sure that what we requested was delivered in a timely manner and their customer service is top notch. You are all a wonderful team. We will continue to use your company for all of our business needs. Thank you Minuteman Press Longwood."