Meet The Team
If there's one thing we've learned over the years, it's that no amount of technology can replace genuine human interaction. That's why we hire only the most qualified individuals to serve on our team. We look for people that share our philosophy that your business is our business.
The Minuteman Press of Longwood Team
Customer Service Representatives
Our customer service staff is responsible for building strong relationships with our ever-expanding client base. They work hard on the front line to ensure that every estimate and order is handled professionally and meets the quality expectations of our clients.
"Minuteman Press has solid professional standards and always provides exceptional customer service."- Haaken J. (equine products manufacturer)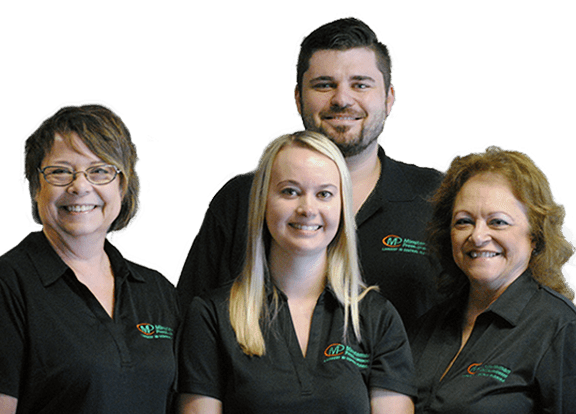 Call: 407-260-0116 to speak with one of our customer service representatives
Graphics and Digital Marketing
In addition to customer-driven graphic design or file touch-ups, our designers are responsible for prepressing all jobs to ensure they can be produced without issues. The team members are experts at layout and composition using Adobe Creative Suite. We are able to handle virtually any file format. This team is also responsible for producing plates used for offset printing, and all digital output.
The digital marketing department also offers social media and website creation, we have the tools and knowledge to get the job done. Whether you need to increase your online presence, optimize your message or expand your reach, let us tell your target market what your business is capable of!
I send them a "very rough" idea and within hours I am reviewing a proof of their design work." – Cherissa V. (lawn and pest control company)
This department includes the offset printing, finishing, large format production, sign installation, quality control, shipping and delivery teams. Every job starts with a careful analysis and planning of the most effective production techniques to meet our customers' stringent quality and delivery requirements. Each function is responsible for quality control throughout the job, including a final inspection before packaging. Our extensive equipment and experienced staff allow us to produce all our jobs in the most efficient and effective way possible.
"Mike Wise and the crew at [Minuteman Press Longwood] have been helping us with our print needs for many years now. They have proven themselves to be flexible to get the jobs done on time and at a very reasonable price. We appreciate them greatly!"
– Chip C. (religious organization)
Sales And Marketing
The sales and marketing departments serve our key customers and develop and promote our value strategy for customers and prospective customers. Utilizing dedicated account managers to support key accounts allows us to be closer to our customers in order to understand their expectations and needs.
"We have worked with Mike and the team at Minuteman Press for well over 10 years now. This is one of our most valued business relationships."
– Jared W. (book publishing company)
This department is responsible for all aspects of mail processing, from list acquisition to data processing to production which includes ink-jetting addresses, producing address labels, inserting, tabbing, applying postage stamps. Our experienced staff allows us to take advantage of the best postage discounts available.
"We look to them [Minuteman Press Longwood] exclusively for all aspects of our direct mail promotional campaigns, everything from card design, printing, storing, labeling, processing and mailing. Minuteman has accommodated both my regular, expected Friday mailings as well as any request to mail that I might send him throughout the week. With postcards in inventory at Minuteman same day printing and mailing service has become the norm."
– Vice President,of local waterworks equipment supplier